Clean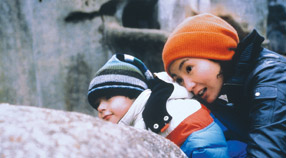 French director
Olivier Assayas
is an interesting filmmaker. He makes his films to look real first and cinematic second. He loves open endings (and this film is no exception). And he can always make his actors feel like they are their characters.
With Clean, he tells the story of Emily, a actress/singer mother who is addicted to drugs and loses her boyfriend (and father of their child) to heroin she purchased. The grandparents on the father's side take custody as she does 6 months in prison for possession. She comes out of prison on methadone with a career in shambles, little money an no immediate family except an uncle who gives her a waitress job. She wants to have communication with her son, but the grandparents forbid it until she gets off drugs.
What follows is a very sensitive and human portrayal of someone kicking a drug habit and struggling on without support.
Maggie Cheung
gives perhaps the best performance of her career (although i've only seen about 60% of her films). She often plays cold uncaring characters like her turn as a woman being cheated on in
In the Mood for Love
or her icy revolutionary in
Hero
. Here she is an absentee mother but manages to radiate a warmth through desparation and confusion. It's quite complex. Everyone else in the film revolves around Emily. She is without roots drifting from Hamilton, Vancouver, London and Paris while maintaining a home nowhere and only tentative contact to her father-in-law who is one of the few characters in the film which do not either judge her for her drug-use or blame her for the death of his son.
Nick Nolte
turns in a nuanced and delicately gruff performance (as he can do very well).
The movies fierce abandonment of drug-use cliches and thoughtful approach to the subject differentiates it from many films on the subject ranging from romantication (
Trainspotting
) or oppressive (
Pure
). The movie has tragedy and dramatic moments without ever devolving into melodrama or movie-of-the-week which the basic story could have easily gone that way. The scenes with
and her son are handled so fresh and real that I wish there were more of them. A breath of dramatic fresh air, despite being shot partially in Hamilton! :)
Highly recommended.