About 30 Films in 2005
I spend way too much of my limited free time browsing the web…that being said, I have decided to put some of my wasted time to the use of other people (or, the cynic might say, to waste other peoples time!). Nonetheless, here are films that I have heard or read about that are coming along in 2005 that have my interest. With any year, there are always about a dozen (or more) films that blind-side you completely and obviously they are not on this list. The list started as a thread on the
twitchfilm.net
forum, but has grown considerably in the last month, so here it is, but first an interesting trend:
If anything stands out of these expectations of 2005 is that it is truly the year of the animated film. All styles are represented. Traditional animated 2D film,
Selick
-style stop-motion animation, and claymation (although the
Wallace & Gromit
feature film is not on the list it is coming out in 2005). The Digital Back-lot style which was pioneered by
Sky Captain and the World of Tomorrow
and but also by French film
Immortel
and Japanese film
Casshern
(all in 2004, but the
Star Wars
films were pretty much there in 1999 and 2003) is really beginning to take off. And
Richard Linklater
is using the 'Rotoscope' technique used in
Waking Life
and
The Polar Express
to make a feature film. That is a lot of high-profile animated film to be released in a single year. And this doesn't include the fast-growing number of 3D CGI animated films
Madagascar
(from DreamWorks),
Chicken Little
(from Disney),
Robots
(from Fox) or
Cars
(from Pixar) because I believe they will all be failures. Yes, even Cars which I'm sure will make a tonne of money, but will still be awful (being pushed back into 2006 is not a good sign either).
Feel free to give me crap in the comments section if I've missed something, but before you do, note that there are some major studio films I did omit for my own reasons (
Batman Begins
,
Be Cool
,
The Fantastic Four
,
The Interpreter
,
The Island
,
Mr. and Mrs. Smith
and the above mentioned CGI films).
Here is the list (in no particular order):
Sin City
– The first thing that captures you is the look. The most graphic-novel-looking film made to date, it dazzles between black and whites and primary colours. The second thing that gets you is the odd cast:
Mickey Rourke
,
Bruce Willis
,
Clive Owen
,
Benecio Del Toro
,
Brittany Murphy
,
Rosario Dawson
and
Jessica Alba
. Personally, I don't really imagine any two of these actors in a film together, let alone all of them. Directed by fast-and-loose director Robert Rodriguez -- this gives you an idea of how he makes movies -- (from the IMDb) After a poor Hollywood experience in the early-'90s,
Frank Miller
refused to relinquish the movie rights to any of his comic works, "Sin City" in particular.
Robert Rodriguez
, a longtime fan of the comic, filmed his own "audition" for the director's spot in secret. The footage, shot in early 2004, featured
Josh Hartnett
and
Marley Shelton
acting out the "Sin City" short-story "The Customer is Always Right". He presented the finished footage to Miller with the proclamation: "If you like this, this will be the opening to the movie. If not, you'll have your own short film to show your friends." Miller approved of the footage and the film was underway).
--
Mirror Mask
– "
The Wizard of Oz
filtered through the looking glass a 21st century
Cyberpunk
lens doesn't even begin to describe this Digital Back-lot film.
Neil Gaiman
and David McKean working with only $4M and Jim Henson Productions (
The Dark Crystal
,
Labyrinth
) have fashioned something that is definitely not for all tastes, but frighteningly original. Now if only the story-telling lives up to the sweet visuals.
--
Layer Cake
/
Revolver
– Is the type of cheeky gangster picture in the same vein as
Guy Ritchie
(pre-
Swept Away
). This is not a surprise, as it is being directed by the producer (?!?) of Ritchie's two gangster pictures,
Lock, Stock and Two Smoking Barrels
and
Snatch
. Speaking of Ritchie, after being swept under the carpet with his last picture, he is going back to what he knows. Initial stills of the flick look very, very good.
Ray Liotta
is a good casting choice.
--
Ana-life
– Is one of those asian explorations on reality and existance. It has a strange and
unusual trailer
that reminds me of
3-Iron
(another film in the same genre) in a lot of ways. Considering how highly I regard
3-Iron
, I'm there when this movie comes out.
--
The New World
–
Terrance Malick
is a director who puts out starkly lyrical pictures, usually at the rate of 1 every 15 years or so. So it is quite impressive that he is going to release
The New World
only 7 years after his WWII masterpiece,
The Thin Red Line
. This film seems to be a non-historical variant on the
Pocahontas
story.
--
Star Wars - Revenge of the Sith
: Despite
George Lucas
crapping on his cash-cow franchise for several years now, there is still a spark of anticipation for the third (sixth?) and supposedly darkest entry into the
Star Wars
Universe. I really don't have to say more on this subject, as it is about to be rammed down your throat from massive merchanidising tie-ins.
--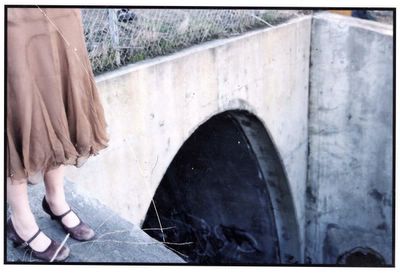 Brick
– A high school drama filmed in the style of
1940s noir
, with the hard-boiled dialogue and narrative labyrinths?? Unusual to say the least. To boot, it had a fair bit of buzz coming out of the
Sundance
Film Fesival.
--
Unleashed
(aka Danny the Dog) – Who would have ever figured we would get a movie starring
Jet Li
and
Morgan Freeman
?
Delroy Lindo maybe
, but not Morgan Freeman. And who would have figured it would be a French production using a Chinese,
English
and an American Star? Anyway, this looks like Li could finally live up to his promise from many of the great Chinese films he made in the 90s (and of course recently in
Hero
).
--
King Kong
– Is it just me, or does
Naomi Watts
look a bit like
Frances McDormand
in that photo? Can this modern take on the Big Ape live up to either Jackson's
Lord of the Rings Trilogy
or the
original 1933 version
? Many people think it can, and judging from the various production video-diaries on the
kongisking.net website
, it is going to look good. But will it have the narrative and story beyond the visuals? I'm not worried.
--
Howl's Moving Castle
–
Hayao Miyazaki
is the Godfather of modern animation, and a name that deserves to be as gigantic as
Walt Disney
. In Japan he has reached that status, but over here his great films have always received short shrift. What particularly smarts is the total indifference Disney released
Spirited Away
in North America despite it somehow managing to win the
Oscar
for best animation.
Howl's Moving Castle
is about a young girl who is transformed into an old woman, and must find the secret to getting her youth back in a gigantic castle which walks on mechanical legs and spits steam and fire into the air. It's getting a mixed reaction over in Japan right now, but even mediocre Miyazaki is better than most films animated or otherwise.
--
Corpse Bride
–
Tim Burton
delves into a project with Stop Motion Animation again without collaborating with
Henry Selick
(probably because he was busy doing
The Life Aquatic
and
Coraline
, but possibly due to a falling out after
A Nightmare Before Christmas
)…Using one of his regular actors,
Johnny Depp
in the lead role and
Helena Bonham Carter
as his bride from beyond the grave. Playfully creepy and darkly funny, this looks like it will rescue Burton from his string of lackluster films (
Planet of the Apes
,
Big Fish
) . I'm also looking (somewhat, reservedly) forward to his remake (arrrghhh!) of
Charlie and the Chocolate Factory
.
--
Mike Judge Untitled Project
(aka 3001) – The IMDB has the plot summary of
Mike Judge
's new film as follows: "Private Joe Bowers, the definition of "average American", is selected by the Pentagon to be the guinea pig for a top-secret hibernation program, set 1,000 years in the future. He discovers a society so incredibly dumbed-down that he's easily the most intelligent person alive." Can Judge outdo his own cult comedy,
Office Space
? With this great premise, I'm hoping so.
--
Brothers Grimm
– After going several years without a
Terry Gilliam
film, we might possibly see two in 2005 (See also,
Tideland
on this list). With
the luck Gilliam usually has
, we will be lucky to see either. The
Brothers Grimm
is a fictional story about the two brothers who combed the German country side compiling faerie tales and old stories. In the movie, the brothers (
Matt Damon
and
Heath Ledger
) are traveling con-artists bilking villagers out of money with bogus exorcisms of the faerie. They are blindsided by the appearance of the real thing in a real enchanted forest. Will this be
Sleepy Hollow
meets
The Frighteners
with a Gilliam look and feel?
--
The Woods
– A couple of years ago there was this great little quirky horror picture called
May
which had some genuinely disturbing images. Director
Lucky McKee
is back with his second film about a private girl's school with strange things going on in the woods. With small roles from
Patricia Clarkson
and
Bruce Campbell
, it is definitely going to be worth a look.
--
Land of the Dead
/
Evil Dead 4
–
George Romero
adds a forth entry into his zombie anthology, the first of which gave birth to the modern zombie film. Each of the previous films were laden with commentary of their times –
Night of the Living Dead
on race, morality and social conscience,
Dawn of the Dead
on commercialism run rampant,
Day of the Dead
on the pressures of competing agendas leading to self destruction (i.e. during the early eighties cold-war spike). What territory will
Land of the Dead
cover. I'm hoping it is not being made just because Zombie films hot right now due to
28 Days Later
and the
remake of Romero's Dawn of the Dead
. And what is up with casting
Dennis Hopper
? Interesting. At the other end of the spectrum,
Sam Raimi
may be taking a break from the
Spiderman
films and making a 4th entry into the classic screwball horror
Evil Dead
Series. There is a remake in the works which is a bad idea, but a 4th film starring "
The Bruce
" and directed by
Raimi
is enough to get almost any fan-boy salivating. Now do they continue from the "S-Mart Ending" or the "Alternate Future World Ending"?
--
Hitchhiker's Guide to the Galaxy
– A book that many consider un-filmable. The humour in it is so textual. Nevertheless, positive advance word and great casting (
The Office
's
Tim
as Arthur,
Stephen Fry
as the Guide,
Sam Rockwell
as Zaphod and
Alan Rickman
as the voice of Marvin) leave me hopeful that it will all come together.
--
A Scanner Darkly
–
Phillip K. Dick
(at his most paranoid) provides
the source material
for this
Richard Linklater
animated film. An undercover cop trying to get to the source of a drug distribution ring gets so addicted to the drug; he begins to narc on himself…while in the middle of a mental breakdown. Using the 'Rotoscoping' techniques (digital animation over top of footage of live actors) pioneered on the surreal Philosophy 101 film,
Waking Life
,
Linklater
and a small army of animators recreating a comic-book / anime look and feel over
Keanu Reeves
,
Robert Downey Jr.
, and
Wynona Ryder
.
--
Romance & Cigarettes
: A musical directed by legendary character actor
John Turturro
, the IMDB has this to say: This big-screen musical is being described as
Pennies From Heaven
meets
The Honeymooners
, as set in Bensonhurst, N.Y. In it, a two-timing husband must choose between his mistress and his beleaguered wife.
James Gandolfini
,
Susan Sarandon
,
Eddie Izzard
,
Steve Buscemi
,
Kate Winslet
,
Christopher Walken
and
Kumar Pallana
(from Wes Anderson's films). Wow. Great Cast!
--
Jarhead
– After
Ray
and
Collateral
in 2004: Here comes
Jamie Foxx
into 2005.
Sam Mendes
(
American Beauty
) directs a script based on
Anthony Swofford
's Persian Gulf War memoir. Drawing on his own experiences as a Marine grunt in Vietnam,
William Broyles
wrote a script that studio and producers felt captured
Swofford
's voice and vivid descriptions of war.
--
Nobody Knows
– A Japanese film about a woman who abandons her 4 children in the apartment where they live with only a few dollars. The children are not sure when she is coming back and eventually begin to fend for themselves. Friends who saw this film at last years
Toronto International Film Festival
loved it. Warning, this is not a happy story, and there were few dry eyes at the
TIFF
screening.
--
Coraline
– The first full stop-motion animated feature from
Henry Selick
since
Nightmare Before Christmas
(his unique animated techniques were used for most of
James and the Giant Peach
and
Monkey-Bone
, but sparingly in
The Life Aquatic
). This is based on the
Neil Gaiman
creepy children's novel, which I will have to read before seeing the film. I've got it earmarked as a 2005 film using the IMDb as a reference, but word around the internet is that it may be 2006 or later before the film is actually released.
--
The Kind Ms. Geomja
(aka Sympathy for Lady Vengeance) – The conclusion to
Chan Wook-Park
's original and disturbing 'Vengeance Trilogy'. The trilogy is composed of three extreme films which are more connected by theme than story elements.
Sympathy for Mr. Vengeance
and
Oldboy
(which just came in second for the
Palm D'Or at Cannes
, losing to the inferior
Fahrenheit 911
) are fantastic (if extremely disturbing) films putting
Wook-Park
in the elite of S. Korean directors working today.
--
Princess Raccoon
- You have to see
the trailer
to really understand why I'm looking forward to this film. A Japanese film starring Chinese superstar
Zhang Ziyi
(the second japanese character she will be playing including her role in the film version of
Memoirs of a Geisha
) which is in the vein of
Moulin Rouge
,
One From the Heart
, or
Tears of the Black Tiger
…It wears it artificiality on its sleeve. I have a soft spot for films that pull this off. The director of the film,
Seijun Suzuki
is one of the prolific Japanese directors, with films stretching all the way back to the 1950s and he is a
Criterion Collection
favorite. I have not seen a single one of his many other films, unfortunatly.
--
Domino
/
Southland Tales
- There are two new projects from
Richard Kelly
(the writer/director of the massive cult-hit
Donnie Darko
) coming out in 2005. Domino is directed by
Tony Scott
and I'm hoping it is more of a
True Romance
than a
Top Gun
. The cast is interesting, with cameos from
Christopher Walken
,
Lucy Liu
,
Mickey Rourke
,
Jacqueline Bisset
and
Delroy Lindo
. It stars very young actresses
Keira Knightley
(
Pirates of the Caribbean
) and
Mena Suvari
(
American Beauty
). This is very much
Scott
style material, as the IMDb plot summary goes: A recounting of Domino Harvey's life story. The daughter of actor Laurence Harvey turned away from her career as a Ford model to become a bounty hunter.
Southland Tales
is written and directed by
Kelly
and, according to the IMDb, is part musical, part comedy. It stars a host of young actors who have been making (good or bad) names for themselves. Don't let the IMDb mislead you,
the website
is creepy as hell and while it sounds, in the description, quite a ways away from
Donnie Darko
material, it may not actually be too far of a divergence. Regardless, it will be interesting to see what
Kelly
does with his second kick at the can.
--
Thumbsucker
- I'll let the 2005
Sundance Film Festival Catalogue
do the talking here:
Addiction can take many forms: drugs, gambling, sex, and food are common ones. But for Justin Cobb, it is thumb sucking. A bright but awkward high-school teen, he wants to quit, but nothing works. He tries everything from putting ink on his thumb (a tip from his woefully uncommunicative father) to hypnosis from his New Age orthodontist. He gets so desperate that when a school psychologist suggests using medication to help him focus, Justin leaps at the chance, despite his loving mother's concern. In a refreshingly original and humorous spin, the meds begin to work. But are they the answer or just a more acceptable form of pacification? Thumbsucker features a truly extraordinary cast that turn in magnificent performances captured by exquisite cinematography--creating an ethereal aesthetic to shape a modern-day fairy tale filled with humor, charm, and fragile love. Acclaimed graphic artist and music-video director Mike Mills returns to Sundance (his short, Architecture of Reassurance, played in 2000) with another beautifully rendered examination of suburban angst. With his feature debut, he delivers on his unlimited potential, displaying an amazing cinematic dexterity combined with an acute insight into the human condition to produce a visually stunning and thought-provoking portrait of addiction--rooted in suburbia, but relevant to everyone.
—
Trevor Groth (SUNDANCE FILM FESTIVAL)
--
A History of Violence
- A
David Cronenberg
film adapted from a
graphic novel
…An average family is thrust into the spotlight after the father commits a seemingly self-defense murder at his diner.
--
Banlieue 13
– After the martial arts action film was re-defined in 2003 with Thailand's
ONG BAK: Muay Thai Warrior
(to be released, February 2005 in North America, but picked up by French Uber-producer
Luc Besson
in 2004), along comes a
Besson
production which may reach similar heights.
--
Wow, that took longer than expected to post, but I'm not finished yet...
Lastly, if you are not overwhelmed by the massive list here, I have seen the following films which are being released in 2005 and highly recommend them (links go to Blog entries in most cases):
Ong Bak - Muay Thai Warrior
(February)
3-Iron
(March)
Kung Fu Hustle
(March)
Gunner Palace
(March)
Clean
(September)
Vital
(hopefully sometime in 2005, maybe 2006)